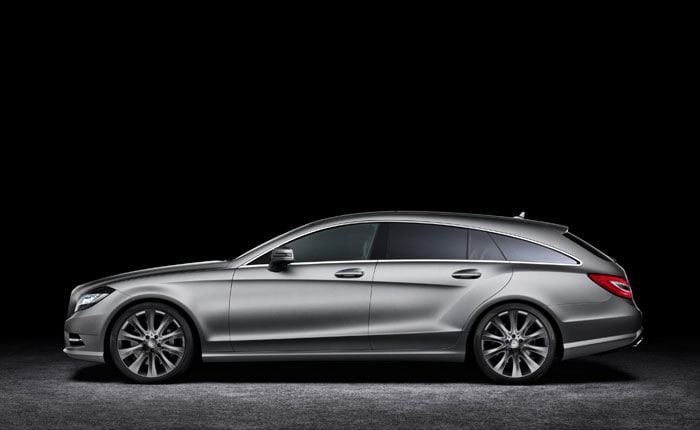 The Mercedes-Benz CLS63 AMG Shooting Brake. Image courtesy of http://www.notabaddad.com/
There are a lot of choices for the American car buyer including a lot of imports from both Europe and Asia. US market demands drive a lot of the decisions that automakers use to guide their product development. However, there is a whole, wide world of auto purchasing out there with some unique cultural and regulatory texture that generates some really neat cars which you won't be seeing on US roads.
In some respects, the grass is just always greener on the other side of the fence. US drivers will long for cars that aren't sold in the US. Psychology aside though, there are emissions, crash worthiness, fuel standards and cultural issues (lack of wide roads and an excess of parking) that keep certain cars contained inside certain markets. Most automakers tailor specific designs to certain markets and leave the rest of us longing for what we can't have. Here are a few cars that you won't find at your local US dealer.
#1 Alfa MiTo
Alfa Romeo makes the MiTo (that's MIlan, TOrino, and means "mythical") compete with the Mini and the Audi A1. It's a sporty 3 door with a turbocharged two-cylinder engine that uses the better part of 12 seconds to get up to 60 mph. What it lacks in pure performance, though, it makes up for in style by combining internal Italian flair with a better-than-most body style that belies its micro class.
#2 Toyota Century
Japan's limousine, the Century is hand crafted with lace rear curtains and wool covered massage seats among other luxuries. It's the first and only Japanese V12 with front engine and rear wheel drive. It's easy to imagine one of these rolling through the streets of Manhattan. If only they were available in the US.
#3 Audi RS 4 Avant
If a power wagon is your dream vehicle, the Audi RS 4 Avant is the car you might need to move to Europe for. When the Germans produce a car with initials that stand for 'racing sport', you know you are in for something special. With a 4.2 liter V8 that puts out 317 lb-ft of torque and does 0-60 in just 4.7 seconds, the RS4 is a race car at heart. Conveniently it also comes with a state of the art navigation and telematics system. Never before has the station wagon seemed so cool.
#4 Volkswagen Scirocco
Volkswagen has a couple of models that US drivers wish they could get their hands on. The Scirocco, named after the desert winds of the Mediterranean, is a beautiful, sporty, hatchback coupe. A face lift in 2014, marking 40 years of production, left the Scirocco more powerful and efficient while retaining that essential practicality that has been the Volkswagen trademark for so long.
#5 Volkswagen Amarok
The US market doesn't exactly cry out for another diesel 4x4, but if Volkswagen offered the Amarok to US buyers, surely it would find a niche. Off road enthusiasts would be drawn to the elegant design, luxury leather detailing, GPS navigation and torquey diesel performance. With 309 lb-ft of torque, the Amarok rivals power output of US trucks, and does it with European practicality and clarity of design.
#6 Mercedes-Benz CLS63 AMG Shooting Brake
When the folks at Top Gear describe a vehicle as "the only car you'll ever need", it's time to take note. The coolest of the Mercedes-Benz lineup, despite the pretentious "shooting brake" name, the CLS63 AMG is a station wagon (see, isn't that better than shooting brake?) that whips up a perfect combination of style, usability and performance. It looks powerful, because with 354 lb-ft of torque, it is. It looks sporty because with a high belt line and sloping rear end, it is. As the fellows at Top Gear suggest, it might be the perfect car. Just don't tell that to your friends until after the laughter dies down the first time you call it a "shooting brake".
#7 Peugeot RCZ
A name forgotten in the US market, Peugeot makes some fine automobiles. With its sexy curves and futuristic roof line, the RCZ captures the essence of a coupe. It turns heads, it's fun to drive, it's strong (270 hp!), and it has more room than its exterior suggests. Well done, Peugeot.
#8 Land Rover Defender
At the end of 1997, tumbling sales numbers and a changing regulatory environment led Land Rover to pull the Defender from the US market. We would politely like it back, please. The Defender is the perfect, go anywhere, built to handle anything Land Rover. Its 2.2 liter, four cylinder diesel puts out 265 lb-ft of torque at just 2200 RPM. Although it looks like emissions and safety standards might spell a complete redesign of the brand in the near future, it would be nice to have another crack at this iconic vehicle in the US.