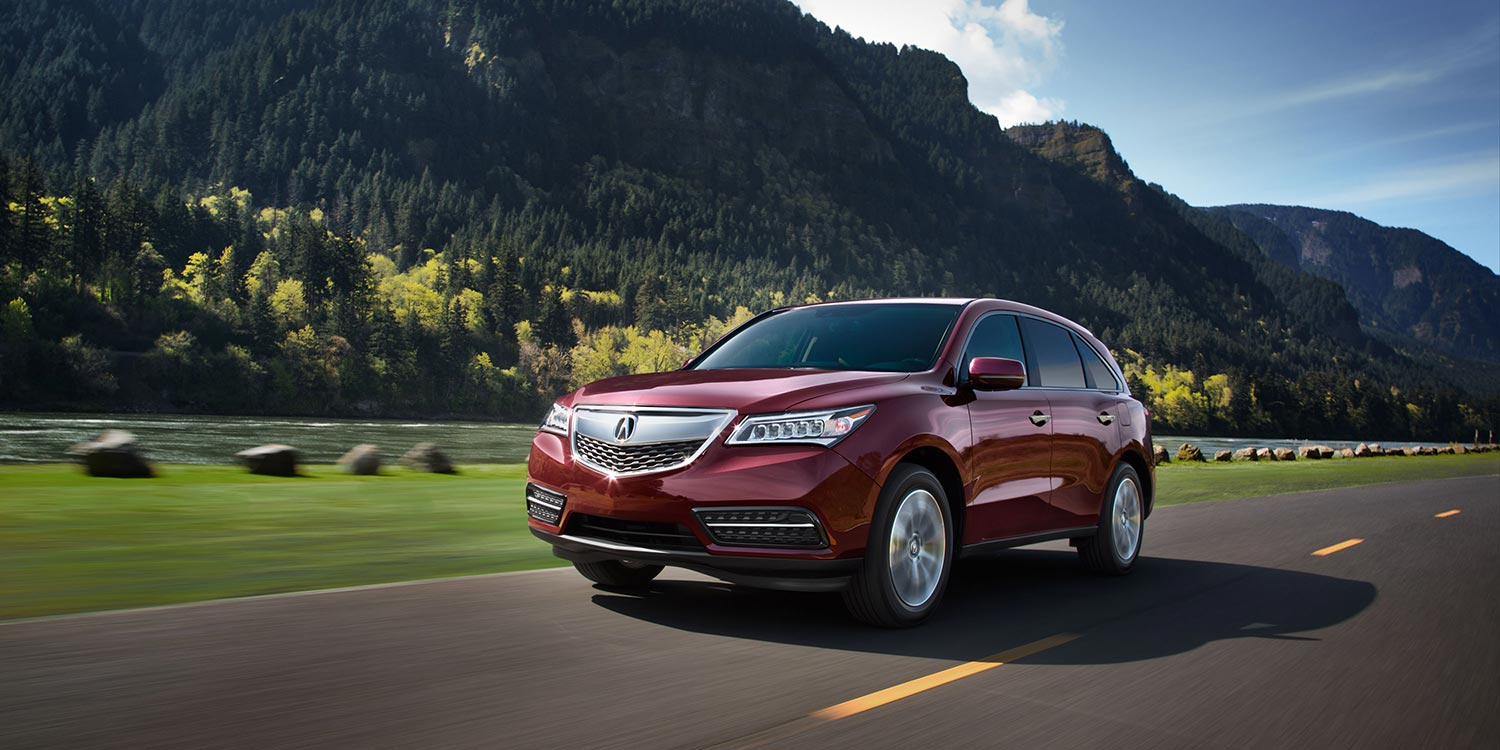 The 2015 Acura MDX with Technology Package in Dark Cherry Pearl. Image courtesy of http://www.acura.com
There are plenty of reasons that people opt for an SUV or crossover instead of a sedan, but the reason most common among Acura MDX buyers is simply that they want a spacious, luxurious mode of transportation for their growing family.
The MDX offers all that and more, with a roomy interior that boasts numerous high tech, luxury features and premium materials. Its curb appeal is second to none, with sharp curves and an attractive front grille that screams "luxury" to those passing by. With several trim levels and a wealth of unique features, the MDX is one of the best luxury buys for growing families, high end consumers, and those who value extra commitment to safety and entertainment.
Design and Curb Appeal: A Look at the 2015 Edition of the MDX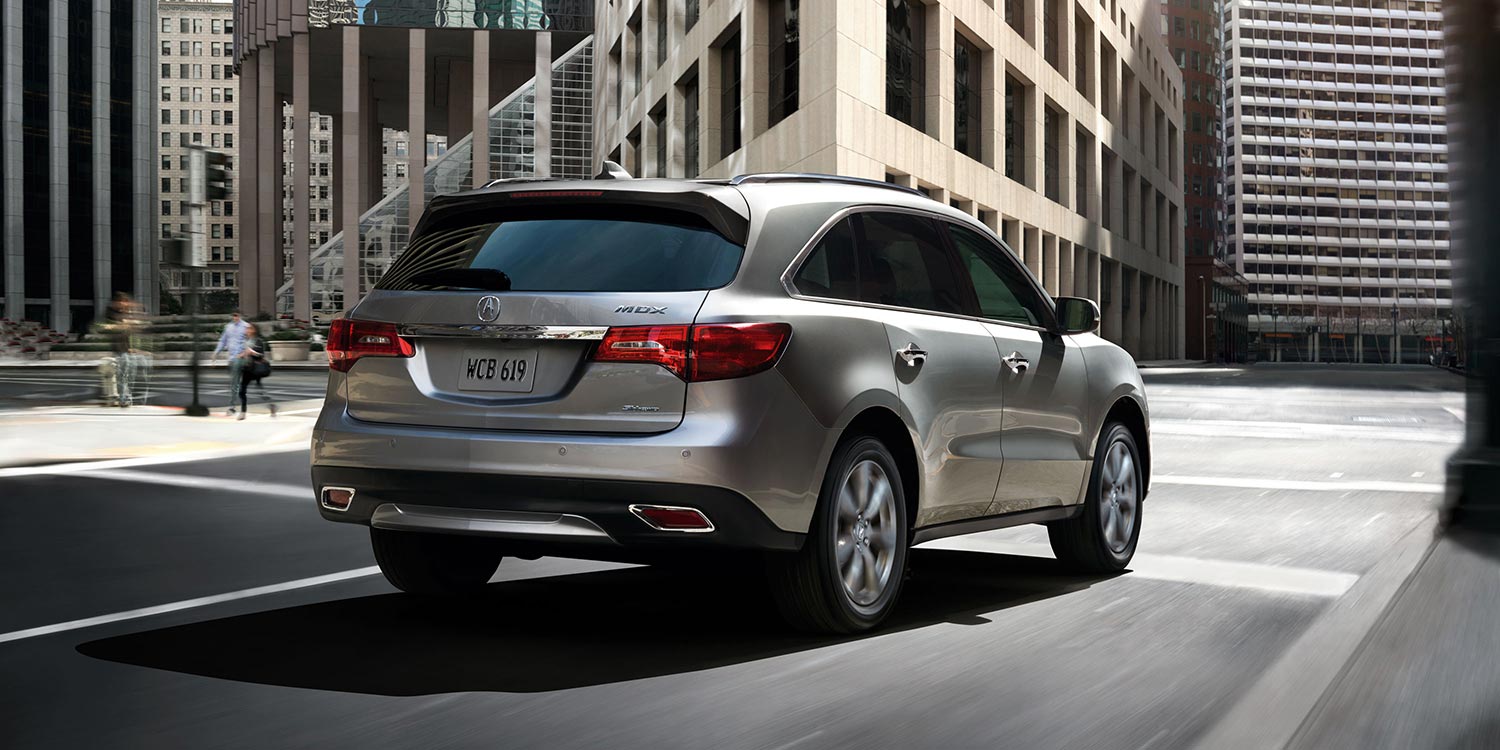 MDX SH-AWD with Advance and Entertainment Packages and accessories in Silver Moon. Image courtesy of http://www.acura.com
The Acura MDX has always sported the automaker's latest designs and refinements, often leading the brand into bold new design eras ahead of smaller sedans or larger Acura SUVs.
This year, that means minor changes to the overall MDX design. The latest refinements to this luxury crossover see it adopt a much lower profile, with a lower roofline, a slightly longer overall cabin length, and a more aerodynamic appearance that makes the vehicle look much smaller on the outside than it feels when passengers head into the cabin. The company's signature front grille remains the same, with the signature Acura logo and bold chrome accents that command attention throughout the day.
Inside the cabin, the most notable thing about the MDX is its use of luxurious materials and muted design. The cabin just feels high end: Leather seats are soft and comfortable to the touch, while soft touch dashboard materials pair with wood-grain accents for a unique sense of style.
Excellent foot room for all rows of seating ensure that the MDX is comfortable even for taller passengers, but its seats are still adjustable enough to perfectly fit younger members of the family or even car seats. Overall, this combination of excellent curb appeal and refined interior materials make the car cozy, and perhaps enviable, for growing families going on longer trips or heading out on a holiday expedition.
New Trim Levels with Plenty of Amenities for Today's Families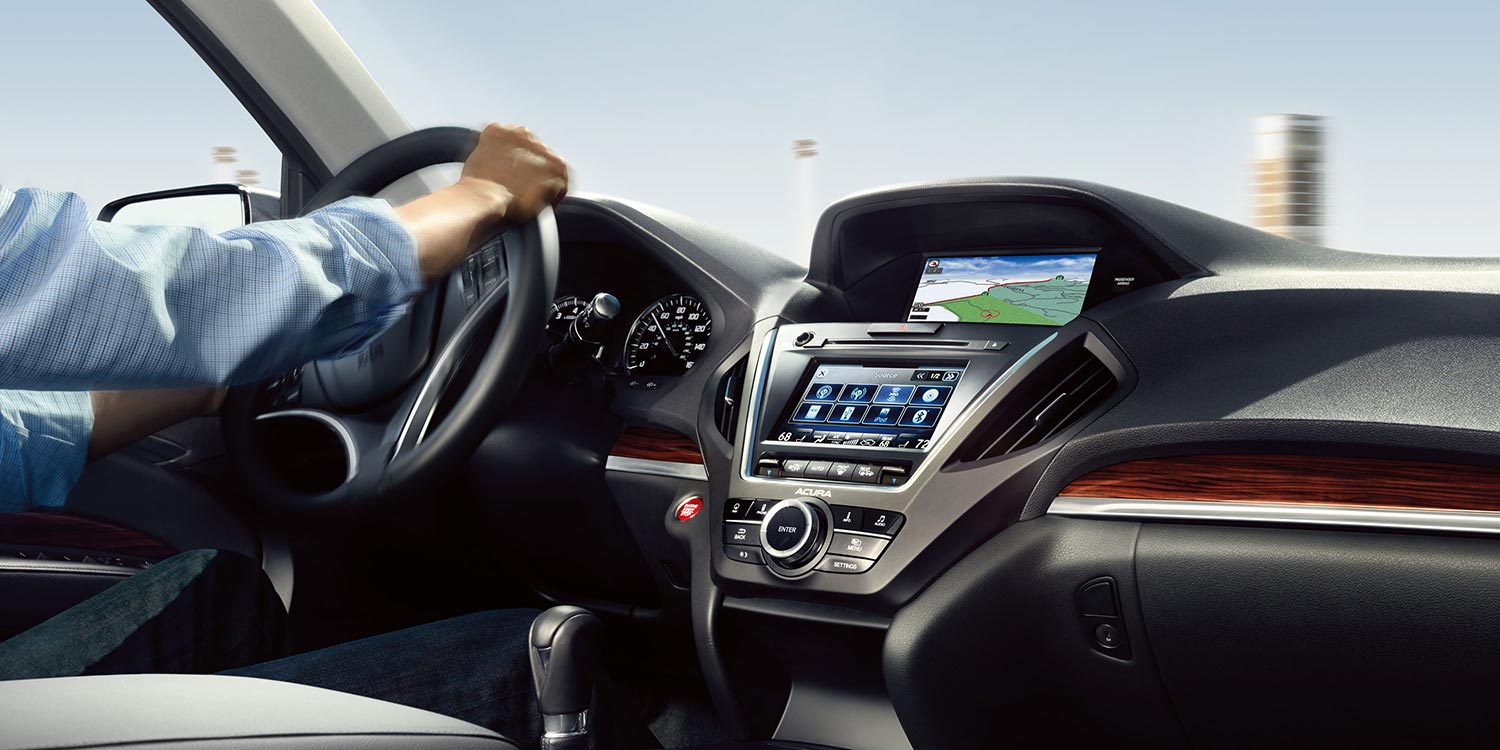 MDX with Technology Package and Ebony Interior. Image courtesy of http://www.acura.com
The Acura MDX gets an all new assortment of trim levels and styles for the 2015 model year, with more standard features than ever before. Buyers who are in the market for a new SUV can choose from Base, Tech, Tech Entertainment, and Advanced Entertainment trim levels.
The base trim, and all trim levels of this year's MDX, comes with a central infotainment display with touchscreen technology, a choice between front-wheel or all wheel drive, lane departure and collision warning systems, blind spot monitoring, and a series of safety enhancing airbags that cover front, side, and driver's knee impacts. All models come with leather upholstery, a six speed automatic transmission, full Bluetooth integration, and both USB and iPod interfaces.
The Tech trim level upgrades things a bit by adding voice control, a full navigation system with traffic monitoring and congestion alerts, premium audio with a 10 speaker surround system, keyless access for both front and rear entry doors, 19 inch wheels, and full access to the AcuraLink roadside and driver assistance program.
The Tech Entertainment package keeps all of those features, and adds several more. This upgrade adds a larger, 9 inch screen for the center console, an 11 speaker surround sound system, heated seats for both front and second row passengers, and a 110 volt power port in the front, central console.
Those looking for the cream of the crop will appreciate the Advanced Entertainment package. This trim level includes all of the features already discussed, but adds power activated lumbar support to front seats, upgraded Milano leather upholstery for all seats, full seat ventilation for use when the heated seating feature is engaged, a 12 speaker sound system, and a 19 inch rear DVD entertainment system for passengers in the second row. Adaptive cruise, lane assist, and collision mitigation systems are also added to this advanced, high end trim package.
Power and Performance, All Without the Requisite Noise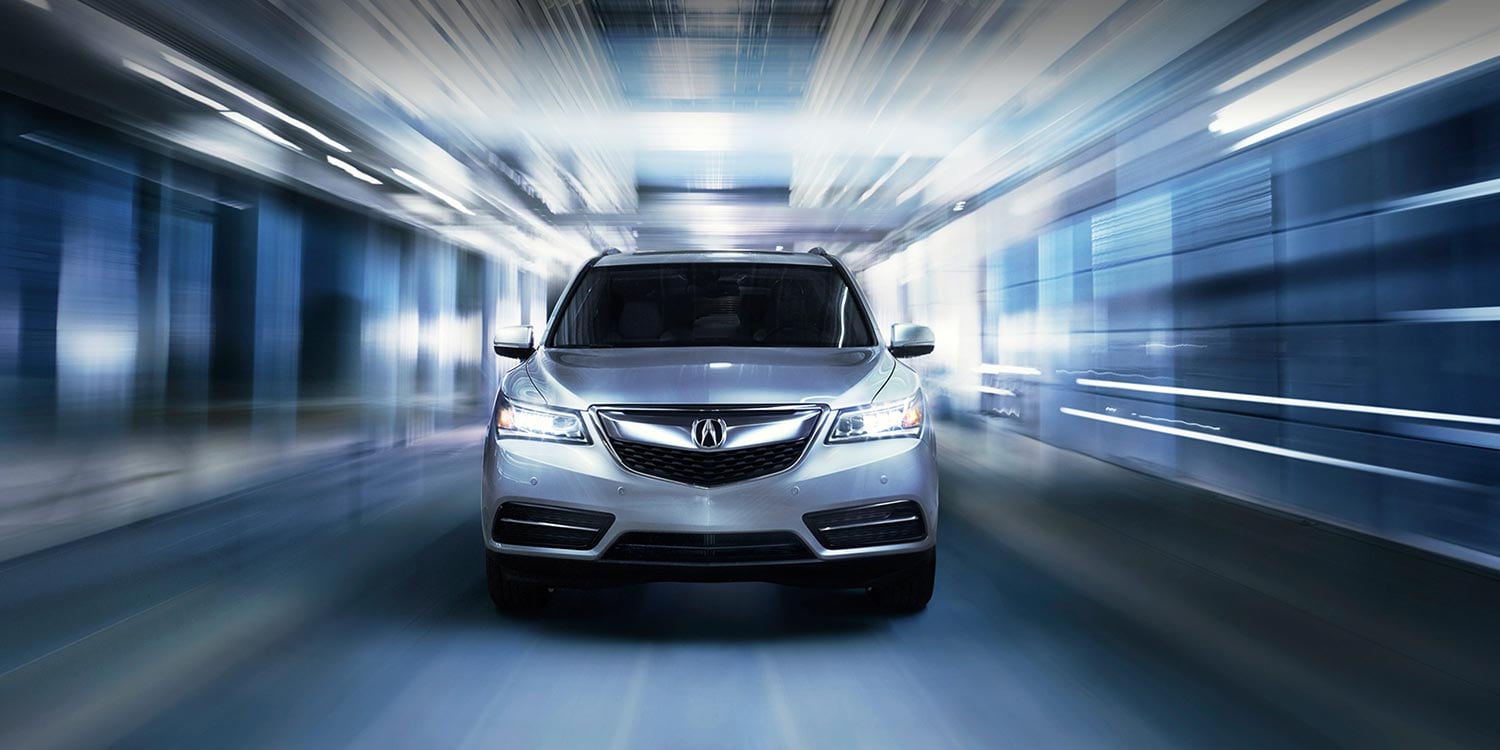 MDX with Advance and Entertainment Packages in Silver Moon. Image courtesy of http://www.acura.com
By now, the typical Acura buyer has come to expect a high standard of power and performance across the board, whether it's the MDX or another one of the company's sedans or crossovers. That remains true with the 2015 MDX model, which comes with a 290 horsepower engine.
The V6 engine features a 3.5 liter design for excellent performance, even around sharp corners, on steep grades, and in other environments where lesser models might slow down or require a bit more gas. This direct injection engine might sound like a pretty noisy addition to this year's MDX crossover, but that's just not the case. Engineers at Acura have long believed in the necessity of a quiet cabin, and that's exactly what buyers will get.
All trim levels of this popular crossover feature noise cancellation materials underneath the floor, in the roof, and in the front end of the vehicle. This means something pretty important for passengers: Even a hard acceleration is virtually imperceptible when the surround sound speaker system is playing music or a DVD. Even without music playing, acceleration registers only slightly in terms of noise in the cabin.
A Safe, Well Appointed Experience for Family Buyers
Proctor Acura presents the MDX.
The Acura MDX has been slightly overhauled for 2015, with a lower profile design, new interior materials, and several high tech additions that put it ahead of the competition. For growing families that require comfort, entertainment, and the utmost commitment to literal and figurative peace of mind, this model is second to none.
Take a look at our online inventory, we carry a number of Acura MDX models in all available package combinations!