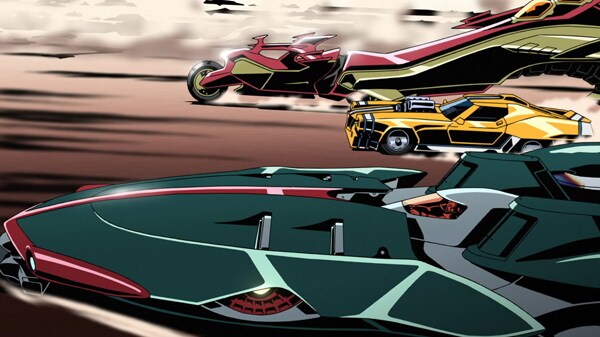 JP's yellow Transam 20000. Image courtesy of http://www.mandible.net/.
There are many reasons that animation is so popular among such a diverse audience. Animation bridges the gap between fantasy and reality in a way that is unique among production styles. Animation, when combined with good writing, can create television and movies that appeal to viewers, both young and old alike.
Part of this multigenerational success comes from the layers of visual and thematic content that can be generated when animation creates the space for fantasy characters to experience realistic emotions. Young viewers enjoy watching the spectacle and understand the right and wrong, good and evil, themes, while older audiences also enjoy the imagery, but see the deeper meaning and "get" the inside jokes.
One of the best things about animation is the ability of the artists to give personalities and voices to those things that are typically thought of as inanimate objects. There are no better demonstrations of this than the animated cars of recent on-screen popularity.
Cars are such an integral part of most people's lives and are so intertwined into popular culture that we often speak about them as if they have personalities. When an animator gives a car a voice as in the Pixar classic "Cars", it is only a short jump of the imagination to generalize what we see on screen to our real world experience.
Consider the following 5 examples as the best of animated cars.
5. TransAm 20000 from "Redline"
TransAm 20000, the heavily customized Pontiac driven by the main character in the 2009 anime film "Redline", is everything a cartoon car should be. Despite the wild animation of the film, the car has all the makings of a classic cartoon vehicle: classic styling, unbelievable but awesome upgrades, and a great driver.
Perhaps more importantly, TransAm 20000 is a ground-car in a film about a futuristic world dominated by hover cars. TransAm 20000 is fast and has classic lines that remind the viewer that even in a modern world, few cars can out-class a TransAm.
4. Sideswipe from "Transformers"
There are a number of standout animated cars in Transformers. In a story about transformable animated cars, it is hard to pick just one, but Sideswipe stands out. A transformed Lamborghini Countach, Sideswipe is a strong warrior and a good fighter.
Sideswipe, unlike his brother, is a good guy with pure motives and a more humble attitude. This combination of strength and humility gains Sideswipe the nod as the car to remember from Transformers.
3. Mach 5 from "Speed Racer"
There is such a cult following around Speed Racer that it would be inappropriate to not mention Mach 5. With styling reminiscent of an early corvette, Mach 5 is a standout in the sometimes awkwardly animated show. Mach 5 has features like auto-jack, extendable cutter blades and an underwater mode called "frogger".
On top of all this, the car gets one of the greatest design features that is sadly lacking from modern sports cars; tail fins. Mach 5 was so popular that a real car was made from the cartoon design.
2. Professor Pat Pending's Convert-a-Car from "Wacky Races"
In the late 1960's animated television series "Wacky Races", zany cars raced around North America in road rallies designed to determine the "World's Wackiest Racer". One of the standout characters was the Convert-A-Car, driven by Professor Pat Pending. Convert-A-Car could instantly change into anything that was needed at the moment from a bowling ball to a boat.
In the golden age of the automobile, Convert-A-Car was the ultimate expression of the idea that the amazing automobile could be anything imaginable.
1. Lightning McQueen from "Cars"
Pixar has made a fortune delivering high quality animated feature films with multi-faceted plots, intelligent comedy and massive popular appeal. One of the most popular and well known Pixar movies is "Cars" and by far the most well-known character is Lightning McQueen. A rookie racing car, McQueen starts out so focused on his desire to win that he is intolerably arrogant. With the help of a hilarious cast of fellow automobile characters, McQueen learns humility, friendship and love.
McQueen earns the top spot on the greatest animated car list, not because of his awesome features or because of the wild popularity of the film. Rather, he is the greatest because, through the flawless animation of his character, combined with excellent writing, Pixar tells a story that is immanently relatable, appeals to the broadest of audiences, and teaches viewers an often needed lesson in kindness and humility.
Certainly there are other animated cars that might deserve a spot in the top five list. Animated cars have a way of capturing the imagination and bridging the gap between reality and fantasy in a fun way. By appealing to a broad audience, animated cars open the door to comedy, drama and intelligent commentary in a way that not many characters can.

All trademarks cited here are the property of their respective owners.